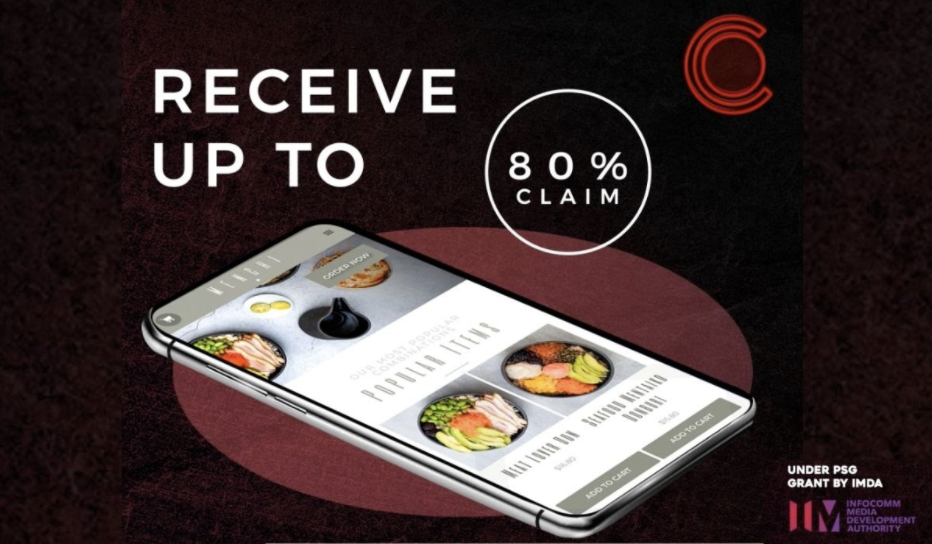 C.O Enterprise is a pre-approved vendor for the Productivity Solutions Grant (PSG). With our IT solutions, we've helped over 300 F&B establishments and SMEs to become more digitally savvy – without hefty up front investment or dreaded renewal fees!
What is PSG?
The Productive Solutions Grant (PSG), is a government grant in Singapore that supports local SMEs who are keen on adopting IT solutions and equipment to help grow and thrive their business processes. It covers an enhanced maximum support level of up to 80%, extended to 31 March 2022. Click here to find out more.
Online Ordering System (ACE)
A website should be simple, attractive, and easy to navigate. If it's not any of those things, you won't be able to gain and reach your target customers effectively.
Website design and development provides a modern look that is timeless and minimalistic so your focus stays on the content of each page.
Get 3 services all under your fingertips: Dine-in, Take-out and Islandwide Delivery.
Why ACE?
With ACE, business owners can have high-quality web pages without having to worry about complicated coding or spending too much time worrying about creativity.
We are experts in the field of web design, and we know how to make sure your site looks great on all devices – including smartphones! Your new site will be fast, responsive, and built with SEO in mind so you get more traffic from search engines like Google.
Top 3 reasons our clients choose us:
1) Save 30% commission fee from third parties (We don't collect any fees at all!)
2) Contactless dine-in to create safe dine in environment
3) Streamline portal to gather all sales and customer's data
Delivery Partners
We partner with Lalamove and GrabExpress, integrated in the Driver Management System all within your site. Have in house drivers? Even better. We can integrate them into the ecosystem seamlessly. 
Payment Gateways
We currently accept payment with Paynow, PayPal and Stripe. Our team of web developers are always on hand to offer advice and guidance when needed so that you never have to worry about anything technical again. You'll also enjoy 24/7 support with no downtime as well as a free training session before your site launch.
And if there's ever any issues with your website, don't panic – we're here to fix it. It doesn't matter how big or small the problem is because at C.O Enterprise we pride ourselves on being able to handle anything thrown at us!
Interested in our services?
C.O Enterprise provides IT solutions for all your digital needs. You'll never have to worry about being left behind in this fast paced world of technology again. Let us handle everything from website development to SEO so that you don't have to stress anymore.
Get in touch with us for a no-obligation consultation to access your eligibility.